There really wasn't a whole lot of festivity this past weekend, but we had a pretty good time over the three days.
It started off Friday evening because I didn't have to work (I did have to go in Saturday morning).  During the day on Friday I made a
turtle cheesecake
for Brian's mom's birthday celebration in Emporia Saturday night.  I will actually post more details about the making of that cheesecake in another blog.  I also prepped dinner.  I made Chipotle Chile Bacon Cheddar Burgers topped with grilled Vidalia onions, a side of roasted red potatoes, and a salad.  The dinner was awesome.  The burgers were as good, if not better, than restaurant quality (I would say better because they were cheaper).
After dinner we watched
National Treasure Two: Book of Secrets
.  Well, we didn't actually make it through the whole thing; we stopped a little over halfway through.  It was a complete turd.  I thought the first one was okay, so I thought the second would be okay too.  Or at least have some action.  But it had neither, so we gave up.  We ended up playing some Wii bowling and Guitar Hero and called it a night.
I went to work Saturday and ended up having to work for five hours.  I had a lot of mess to clean up from the night before.  While I was at work, Brian worked around the house and went to Lowe's to pick up supplies for our outdoor projects we were going to do on Sunday.
I got home around 2:30 P.M. and we immediately headed for Emporia to celebrate Brian's mom's birthday.  We went to eat dinner at
Olpe Chicken House
, which turned out to be the best restaurant I've eaten in Emporia (it's actually 10 miles outside of Emporia).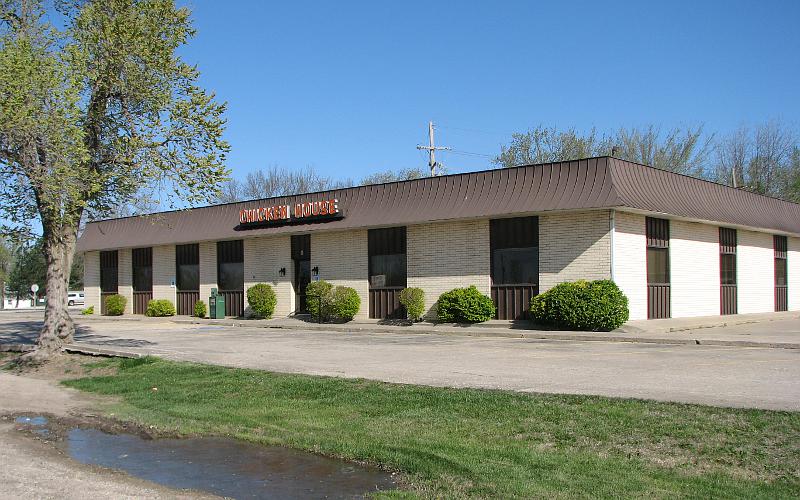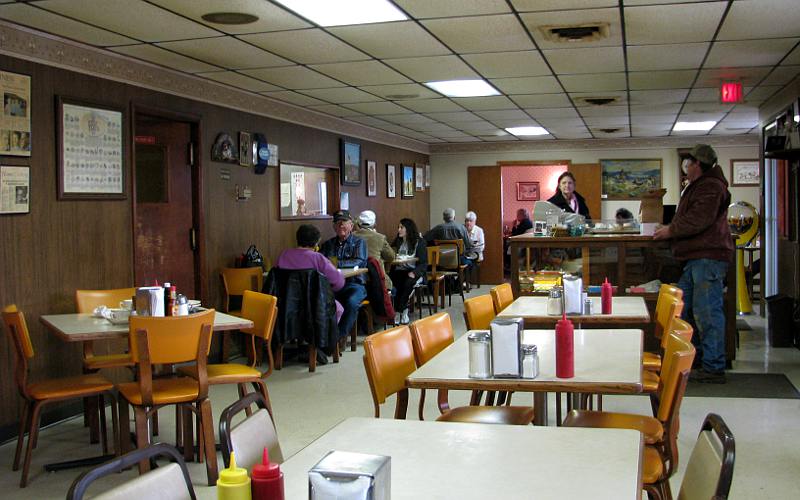 What I liked most about the place was the price.  It was $30 for three people and that was with an appetizer!  I think the average age of the customer was 60 years old.  All I know is that I am no longer eating at any restaurant in Emporia, we're just going to go to the Chicken House from now on.
After dinner we went back to Peggy's house to open presents and eat my cheesecake.  We ended up getting Brian's mom a hefty gift certificate to Lowe's and the promise that Brian will come down during his Christmas break and re-do her bathroom.  I know he is looking forward to it.  Here is a before picture of the bathroom.
I know she wants a new vanity, new toilet, new shower surround, new flooring, and much more.  It's her only bathroom, and it's very small.  I'm glad I don't have to be around when the remodeling is going on.
We ended up leaving Emporia late Sunday night.  We had thought we were going to spend the night and leave Monday morning, but we had the idea that we would get more stuff done around the house if we left Sunday night.  It sort of ended up being a good idea.  We got home and decided to have a few drinks and watch the older Nine Inch Nails concert DVD,
And All That Could Have Been
(the best sounding music DVD I have ever heard).  Well that ended up turning into and all night NIN fest.  We ended up going to bed at 4 A.M. after watching the second NIN concert DVD,
Beside You in Time
(not nearly the same audio quality as the first), and then watching the first half of the other concert again.  Seriously, I think we need an intervention.  But it was fun nonetheless, and I am sure we will do it again.  This is a picture from another night, similar to the one we had on Sunday.  Crazy.
After staying up so late, we ended up getting out of bed around 10:30 A.M. so we could eat lunch and be presentable for my parents when they came to drop off the water-feature shell.  Luckily they didn't stay too long because my mom was not feeling well, so we could get the landscaping started.  I wasn't feeling too hot and didn't want to do too much, but supposedly Brian felt fine and he convinced me to help him.  I'm glad I did because we got a lot done.
For the rest of the evening we picked up chicken grillers and twice-baked potatoes from Hy-Vee for dinner and watched TV and called it a night around 10 P.M.